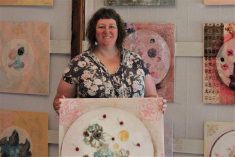 Selina Wilson was born in Melbourne, Victoria in 1967. An award-winning Painter and Photographer, Selina completed a Bachelor of Fine Art, at La Trobe University, Bendigo in 1992. After University Selina worked in the photographic industry, including Wedding and Model Photography. Her works are held in private collections nationally, in the USA and the UK.
Post University, seeking to fulfil her dream of living in the country she and her partner moved to Daylesford in 1998. Life in the country was filled with a small plot of land, lots of animals and a couple of kids but little room for creating art. After moving to Newstead in 2007, Selina was introduced to the rich artistic community there. Visiting open studio's she heard herself wishing her artistic practice back into being. She opened her studio for the first time in 2017 during the Castlemaine State Festival.
These recent works created over the last 12 – 18mths speak to her love of colour and  play. Not one to take herself too seriously, her paintings aim to offer a smile and some joy. Colour, beauty and fun remain her primary sources of inspiration.  Selina explores these themes across a broad range of media including Synthetic Polymer (Acrylic) paint, resin, inks, porcelain, cloth and paper.
She lives in Newstead with her partner and 2 children. Selina is a regular participant of Arts Open, Newstead Open Studio Arts Trail and the Castlemaine State Festival.