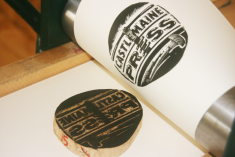 What's it all about?
Castlemaine Press Inc. Is a space to explore printmaking in all its facets. Whether you are a beginner or a master printer, we have equipment and assistance to fulfil your printmaking needs. Our studio has great natural light; presses both large and small, plenty of bench space and easy access. Set in the Arts precinct of Castlemaine (Lot 19), Castlemaine Press is a place to meet printmakers, work collaboratively, build skills and produce prints using quality equipment.
Who are we?
Castlemaine Press is a not for profit organisation made up of passionate printmakers who aim to provide a community access print studio for printmakers near and far – a space where you can hire presses and equipment, do workshops, and take part in collaborative opportunities.  We recognize that printmaking facilities are difficult to access and adequate studio space is also out of reach of many. Castlemaine Press seeks to make printmaking more accessible by providing these facilities along with training, gallery space and a collegial atmosphere.
The workshop space will be staffed by experienced volunteers….all Castlemaine Press members…. hosting a variety of daily and long-term activities.
Castlemaine Press is community owned and run, governed by a committee elected by the membership at the AGM.