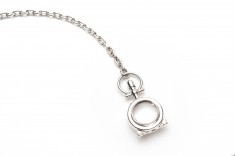 Paul Fenselau is a Studio Jeweller, Gold & Silversmith and Lapidarist based in Castlemaine. He prefers to create one of a kind unique jewellery designs using traditional methods with modern tools and techniques.
Some of his earliest experiences with metal work and sculptures were exhibited in the National Gallery of Victoria, while he was studying his VCE in Bendigo. The works were part of the Top CAT's art exhibition displaying the highest standard of VCE students in the state.
Paul went on to study 3 years full time at RMIT Uni in Melbourne to attain a BA Degree in Gold and Silversmithing and later on went and studied a further 2 years at NMIT to achieve an Advanced Diploma in Mechanical engineering of Jewellery.
The last 8 years has seen Paul further his jewellery making techniques by developing exceptional skills in the art of faceting precious gemstones. The process of faceting precious gems is an art that needs a lot of time and patience to bring out the natural beauty of a gem. Over the last 4 year's Paul has entered many State and National gemstone faceting competitions, achieving some outstanding results with many of his entries gaining 1st, 2nd and 3rd positions, including a gold medal for the highest point score for a gem entry in the Australian Facetors Guild national annual competition in 2011.
Earlier this year Paul traveled to Queensland to be awarded several medals from the President of the Australian Facetors Guild for his entries in the International Faceting Competition, held every two years. Paul was chosen to compete in the team of 5 participants from Australia of which the Australian team won the competiton with the highest aggregate point score section. He also achieved the highest points for a member on the Australian team and overall, for a single entrant he came second in the world ranking.
Paul says "part of the fun of traveling to Queensland was not just getting the two medals and to hold the perpetual trophy but the biggest thrill was to spend several weeks on the Central Queensland Gemfields fossicking for Sapphires, Zircons and black spinel" he goes onto explain "it can be a lot of hard work digging for Sapphires but there is such a great thrill and reward to find a gem, then have the skill to cut and polish it, set it into jewellery and then admire the finished piece of unique wearable art"