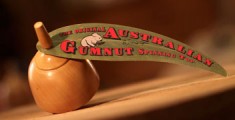 The two of us:
Both born in Australia, we met in the Victorian gold fields town of Castlemaine, in 2005. Working together to produce custom architectural fittings and furniture we decided to join forces and formed our little company Turner & White Pty Ltd in 2011.
Having both spent many years working independently as Sculptors and Craftsmen, working with many different mediums, Bronze, Steel, Stone and particularly specialising in wood.
Our first Sculptural collaboration, – was a commission to make 72 hand turned wooden sculptures for the Sydney Park Hyatt.
A project that engaged our love for wood turning, and partly influenced the creation of this project.
We have since been fortunate to be involved with the design/manufacture/and installation of many interesting sculptural projects across Australia.
We love the idea … the possibility for making our concept/Artwork affordable and widely available.
We hope to always be creating, always laughing and always learning.
Artist Video