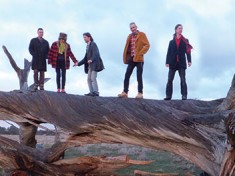 After 20 years playing and writing for a bunch of Melbourne post-punk and gloomcore outfits, Duncan Graham began his solo experiment in 2001, armed with a shitbox Takamine guitar and a skinful of booze and nervous apprehension.
By 2005, he had press-ganged two friends into service on piano (Paul Huntingford) and mandolin ( Rex Watts) and, with this charmingly rustic trio, cut his first album, the lo-fi Faggot Anthems And Drug Ballads.
Come 2009, after a follow-up, two more musical orphans were given a home – (Bruce Armstrong, bass and Jan Palethorpe violins and vocals) and the new quintet released their breakthrough album, Austral Weeks. With nary a pause for breath, this quintet, now called The Co-Accused, proceeded to rack up over a hundred shows in Melbourne and country Victoria.
Building a reputation for delivering epic and emotional two-hour shows crammed with sweet four-part harmonies, mighty fine playing and detail-rich lyrics, they run the musical gamut. Power-pop, blues, suave balladry and urban folk are all visited in the course of a night – if there's one thing this band is allergic to, it's same-same genre-squatting.
As 2013 breaks over a post-Gangnam world, Duncan Graham And His Co-Accused have travelled a thousand clicks to cut their fourth album.
On it, they will be trying their damnedest to capture their live sound more than ever, eschewing studio trickery and knavery in favour of risk.
They have the lightning. Let's hope they have the bottle.