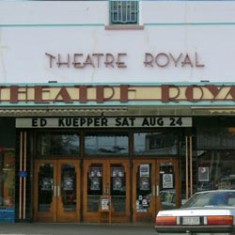 Presenting live entertainment in Castlemaine since 1854, The Theatre Royal sets the benchmark for entertainment and hospitality in Central Victoria.
In 2014 the Theatre Royal celebrates 100 years of cinema in Castlemaine, now screening quality art-house films and alternative content in digital HD and Dolby 7.1 surround audio.
An ice-creamery, a cafe and Mexican Restaurant, a must-play live venue for national and international touring artists and a unique cinema space, all under the one room in central Castlemaine.
Loved by locals, adored by tourists, this entertainment icon was listed on the Victorian Heritage Register in 2007:
"Theatre Royal, Castlemaine is of historical and social significance for its long and continuous associations with popular forms of mass entertainment since the mid nineteenth century. As a goldfields theatre and later as a cinema, it has been highly valued by members of the community as central to the social and cultural life of the area."