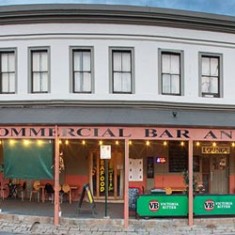 The Comma, previously The Commercial Hotel, has been an iconic Castlemaine Pub for almost 140 years. Built in 1874 and having changed names several times in it's life, the Comma has a very colourful history. There are even claims that the hotel was haunted by the friendly ghost of a patron who used to regale people with tales at the bar.
Being under new management and undergoing a massive transformation, The Comma Hotel is reinventing itself as a hot spot for art, exhibitions, music, poetry, spoken word and all things entertainment. And the venue itself is not the only thing that's had an overhaul. Now sporting a new and fresh menu and a great wine list, the Comma is the perfect place to go for lunch or dinner, and to stay for a show or soak in the constantly changing art.
Whether you're interested in the Sunday afternoon Jazz jam sessions, story telling nights on a Friday evening or simply sipping a wine whilst reclining on the comfy sofas in the lounge, there is something for everyone at the new Comma.
The Comma Bar & Bistro
Food, Art & Ambience On the round about