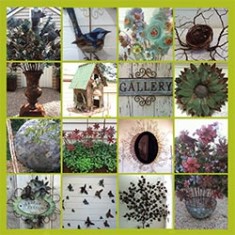 Artists Chelly and Peter Gray found a roll of rusty wire on their country property 19 years ago and started twisting it into works of art. Perhaps because of their ceramics training, their creations are functional as well as original, from candelabras and bowls to beds, mirrors, fire screens, sculptures and garden art.
Shades of Gray has had work on display from Daylesford's Convent Gallery to the Guggenheim in New York, in galleries and shops around Australia as well as commissions from private homes, to restaurants, vineyards, cafes and corporate spaces.
The two artists have their own studio and gallery in Castlemaine and are open for visitors.
Chelly and Peter have two gallery spaces on their property at Castlemaine. The gallery is open year round and the artists welcome visitors to see their work. Simply phone ahead to let them know you are on your way. Phone (03) 5472 1869.
Each year, the couple opens the gallery and the garden every November, from the Saturday before Melbourne Cup (the first Tuesday in November) to the Sunday after Melbourne Cup.
The gallery is also open for the Castlemaine State Festival which runs for two weeks in March-April every second year, on odd years.
Shades of Gray is located at the intersection of Farnsworth St and Brown St, Castlemaine, 120km northwest of Melbourne. It takes about 90 minutes to drive from the city, via the Calder Highway.