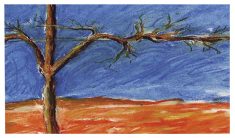 I am a Graphic Designer, Artist and Illustrator. Nitty Gritty Graphics is my Graphic Design business and Art is my passion, I love painting, sketching, brainstorming ideas, creating custom designs and bringing them to life. Finding inspiration in the ordinary and the extraordinary and weaving it into my work. I studied Graphic Design at Swinburne University of Technology and have been working in the design industry since graduating many moons ago. Painting is pure pleasure and I love making stuff.
If you are after Graphic Design Services, Nitty Gritty Graphics can do it, whatever the size of your project or budget, I am happy to advise you on the best options for your design, advertising and print needs. As my business name suggests I will keep the explanations of the design and print processes as simple as possible, demystify the industry jargon and not overwhelm you with designer waffle!
I can advise you what is possible and devise a plan to make it a reality. I am based in Castlemaine, however, in this global and digital world I am happy to work and communicate via email, Skype, file transfer facilities like WeTransfer, Hightail and Dropbox or good old face-to-face meetings.
Below is a guide to the type of things I can do for you:
• Logo design and branding
• print design and production
• book and magazine design and layout
• design for advertising and marketing material
• design for websites and social media
• digital and traditional illustration.
Don't worry if what you need is not on the list, I am always interested to work on unique and unusual projects, so please email or give me a call!