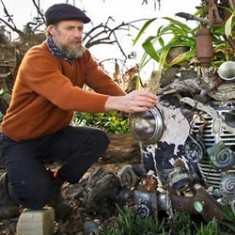 Inspired by the natural world, I use found objects
Iron, stone, wood, bone and glass to create. I love to play with all these materials. I change and reshape them, over and again as I desire. Nothing is fixed.
I have worked with the natural world all my adult life and have created art gardens everywhere I have lived for the past 20 years or more. I began my professional life as a landscape gardener, as an apprentice in the Castlemaine Botanical Gardens, at age 15 and worked for many years designing and landscaping both public and private gardens.
Through building gardens I discovered stonework and in building dry-stone walls, I learnt to play with rocks and realized I could play with anything. I could work with any object, creating patterns and arrangements.
Then, travelling and living in different parts of Australia, SE Asia and India, I believe I was unconsciously inspired and influenced – affected strongly by meeting people with great freedom and creativity.
In my work I gather together broken and discarded objects. Things that haven't belonged together are united to become a harmonious whole. Sometimes images collide, creating friction and humour. Allowing changes or a frozen moment of shape and form and contrast.
I feel my art can be interpreted and re-interpreted from every angle and in different environments… different seasons. In the changing light, in shadow and full moon or in rain. However you approach the art I make, you will see it change over and over. Some of my works I name, but my motto is, "what you see is what you see." You can name them yourself. All my work is open to interpretation.  I invite play and entrancement.
I believe there is a place for all the things that others have thrown away, and rejected or outlived. Every object has a soul! I love to lift all these objects upwards in reverence, enjoying their shapes, patterns, textures and energy. Reverence is everything.  I feel humbled by the objects I find… or is it that they find me? They speak collectively or singly. I believe my art to be alive and changing and moving – with a life of its own.
Antares Iron Art Garden
By the Loddon River ford, corner Brandt St and Punt Rd, Newstead
(Off  Daylesford- Newstead Rd, C285)
10am – 5pm
Extended hours by appointment
Entry by donation
0447-229-149