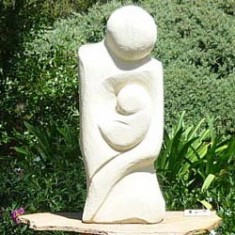 Sculpture Garden
In 2003 my husband and I moved to Castlemaine in Central Victoria, a wonderfully vibrant, eclectic place with 'wall to wall' artists of every genre – and only 1 hour 20 minutes to Melbourne……the best decision we ever made!
We bought a 3 acre property close to the natural bush but only minutes from Castlemaine centre. Having just spent several weeks in Italy, we immediately set about turning the house and non-existent garden into a Mediterranean haven. A fabulous existing stone wall inspired us to construct vine and rose covered pergolas and walkways, create meandering paths, and plant rose and cottage gardens, with swathes of lavender sage and rosemary, interspersed with conifers, exotic and native trees. All this overlooks an ornamental lake complete with jetty and boat, wild ducks, cormorants and kangaroos.
We then turned this oasis into a sculpture garden.
As one wanders through the gardens, one comes upon strategically placed unique ceramic, stone and metal sculptures nestled into the shrubbery or standing proudly on lawns and hard surfaces. The working studio/gallery also exhibits many sculptures – varying from small to lifesize in a variety of finishes, from sensual glossy glazes to organic textured surfaces.
I spend most days working in either my studio or garden and I am always delighted to show visitors around and/or chat about how my work is made – designed, constructed, fired etc..
Visitors are welcome any time but please phone first to confirm.
Phone: 03 5472 3235 or 0412-966-194