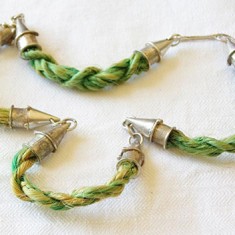 Nestled in a corner of Castlemaine's Art Space CASPA (Castlemaine Contemporary Art Space), Lillyan Shirvingtons work shop is a hidden gem of contemporary jewellery.
Her unique style and techniques of stone carving and hand forming make for beautiful and original pieces, setting her jewellery apart from larger scale jewellers.
With over 20 years experience, Lillyan has extensive skills discovered and honed whilst studying jewellery design in Taxco Mexico and she is now studying Geology in Ballarat.
Lillyan has a special interest in Australian stones and gems, especially those from the Castlemaine and Goldfields area. Often digging for and finding her own specimens, Lillyan has a special connection to all her jewellery pieces, having lovingly found, carved, polished and set each one. Using old techniques and hand tools, Lillyan transforms her finds into spectacular pieces of jewelry, incorporating her original style of silver smithing & coupling.