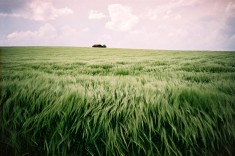 Photography is 'drawing with light' and although I began my life as an artist, I became obsessed with recording the world around me with a camera, capturing moments when I felt blessed with the way light fell. Photography is a way to express my strong sense of a spirit of place and to record the changing seasons – to share my awareness of light, colour, space, form, texture, ambience, cultural detail, history and social issues.
Biography
Katherine Seppings, artist, writer and photographer, has worked in publishing in Australia, London and New York. Katherine's graphic designs, paintings, illustrations and photographs have appeared in books, newspapers, magazines, cards, calendars, brochures, websites, audio-visuals, videos and exhibitions since the mid 1970s. In the 1980s, Katherine was a member of the National Trust Photographic Committee (Vic) and qualified in Illustrative Photography at PSC, Melbourne. As a writer, she is published in poetry journals, anthologies, documentaries, newspapers and non-fiction books, and has received awards for her short stories, poetry and the European Diamond Videoclip Award 'Best New Group Video' for Art Direction for The Beautiful South's Song for Whoever (1989).
Katherine's exhibitions include Castlemaine at the Crossroads (2003), Across the Divide (2007), Black Saturday (2009) and Of Flooding Rains (2011). Characters of Castlemaine (1986) received nationwide acclaim. She illustrated The Complete Bushfire Safety Book (1986, 1989, 2000); wrote and illustrated Fireplaces for a Beautiful Home, published in four editions in London and New York. Local publications include The Heart of Victoria (2004), The Travellers Guide to the Goldfields (2006), and Back Roads Australia (2011) Penguin, London.
Katherine has an image library of the more than 30 countries she has travelled and lived in, specialising in people, events, dance, the built and natural environment, bushfire, and of the Central Victorian Goldfields region, spanning three decades. She is currently working on a memoir, a collection of her poetry and a history of Castlemaine artists 1960-90. Her cards of local images can be found at the Castlemaine Visitor's Centre and Castlemaine Newsagency.