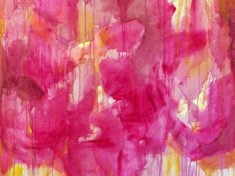 Judy Jones moved to Castlemaine from Melbourne with her partner Juergen, to establish The Yellow House Bed and Breakfast and Studio/Gallery. The aim was to integrate contemporary art and accommodation and to provide a studio space for her art practice that would be open to guests and on occasions, the wider public.
Judy is painter and printmaker. She has studied art in the U.K. (Loughborough University) and in France (Paris-American Academy) She gained a Master of Fine Art (2009) and Batchelor of Art (Fine Art) (1996) from RMIT in Melbourne. She has exhibited overseas as well as In Melbourne and Central Victoria over a period of 15 years, participating in more than 20 group and solo shows.
Recent exhibitions include "Footprints" Counihan Gallery, Brunswick, (2011), "essence" Central Goldfields Art Gallery, Maryborough (2010), Circle-Phase-Loop, School of Art Gallery, RMIT, Melbourne (2009) "MasterSpieces", The Yellow House Gallery, Castlemaine (2009).
Her current work is informed by the conventions of painterly, gestural abstraction and a response to natural phenomena in the world, in particular time, movement and change.
Judy's Studio is in one of Castlemaine's premiere locations overlooking  the beautiful township.
If you're looking for accommodation whilst you're visiting Castlemaine for ArtsOpen why not stay at Judy's French Villa Style house: The Yellow House or call them on 5472-3368 to book your accommodation today.