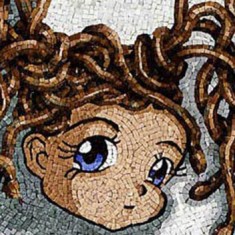 I moved to the Castlemaine area 4 years ago from Melbourne, where I had lived on and off for almost 30 years. Born in Adelaide and raised as a young child in Elizabeth (SA), I went to Uni High and later – to art school in Melbourne. I completed a BA in Fine Art (majoring in Painting) at Victoria College, Prahran and then a Post-Graduate Diploma at Monash Uni.
Having had periods when I engaged and trained teams of other artists to help me with large commissions (and I became a Project Manager), these days I relish the largely solo hands-on studio practice. However I enjoy collaborating with others, which I do regularly – with stonemasons, sculptors, illustrators, architects and other artists. I do a little teaching each year and most of the time am working on smaller scale mosaic commissions for public or private clients. The few months each year of "fallow time" (between paid work) I can just make work for me or take risks on potentially stupid art ideas.
After having lived adjacent to my studio (or in it) for almost 20 years, I now love getting up and leaving home in the morning for my studio at Lot 19. I am fortunate to have found a rich and warm community in which to live and work together with a natural environment that brings me peace and inspiration in equal measure.
Click here to download Helen Bodycomb's Bio