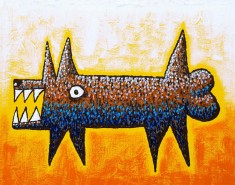 Having been a graphic artist for over 30 years now I have done pretty much every kind of project there is.  Producing everything from the 3RRR logo (which adorns cars everywhere), the first 2 albums for Jimmy Barnes, websites for Tokai Guitars Australia, logos for Timberidge Guitars and Tiki Ukuleles, to corporate brochures and annual reports (having won a silver and a bronze for 2 at the Annual Report awards in Australia).
My great love though is digital design (though I also paint, illustrate and take many photos), my work seems to mostly have a social/political comment, graphic art is the 'Art of Communication' after all.  To design for no commercial purpose, for only the satisfaction of creating is a very rewarding thing, especially when most of my working life I have had to help others communicate their message to the public.
Most of my digital images are available as high quality 9 colour prints on archive paper, both framed or un-framed. I am trying to organise an exhibition but I am having trouble finding a place willing to have my work displayed, 'such is life'.
I am involved in many local community projects, such as the Harcourt Apple Fest, Harcourt Community Website and have done work in the past gratis for charities and organisations such as the Anti Apartheid Group and The Red Cross.
I still love what I do for a job, not many people can say that after all these years.
I also mix simple snaps of music from loops and have just dipped my toes into video.
I live in Harcourt and work from home.