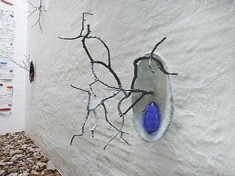 Zoe's work is often inspired by the indigenous species of an area, such as theKamarooka, which was shortlisted for the Helen Lempriere Sculpture Award andRed Box, both of which are in the Bendigo Bank collection.  These works drew strength from earlier exhibitions such as the Mumunya Festival (for which she won the Mumunya prize) and from The Tree Show – Bushwahzie where the Red Box as a subject first made its appearance.
Much of her treasured childhood was spent in the bushland and homes of well known Australian artists and writers such as Daryl and Joan Lindsay at Mulberry Hill, Clifton Pugh's Dunmoochin, Monsalvat where she worked in the sculpture studio of Matcham Skipper, and of course, in the studio of Rick Amor who is a wonderful artist and father and Teana Amor who encouraged her to create and wander in the bush.
Reflections of this inspirational background were also to be found in Origin: Dunmoochin at Monsalvat, and Window to the Sun, her first exhibition at the Melbourne Art Rooms.
New works are soon to be found on the shores of Sydney at Sculpture by the Sea, Bondi 2006 and MARS gallery based in Port Melbourne.
Zoe Amor was born in 1974 in Frankston and lives and works in Central Victoria.