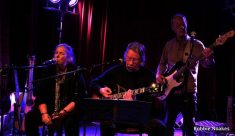 Background:
Art, media and work education teacher and coordinator at Victorian technical and high schools, secondary colleges and alternative schools.
English as a Second Language teacher in Teheran, Iran.
Coordinator of education programs for disadvantaged youth and for people with disabilities.
Community Education Officer.
Owner/manager of a design, wholesale and retail fashion business.
Taxi driver
Qualified Creative Arts Therapist.
Music promoter:
Producer and presenter for five years of a weekly one hour interview program on Castlemaine community radio station Main fm 94.9
Organiser of live music for the Castlemaine Fringe Festival in 2013.
Co-founder and organiser of the monthly Castlemaine jazz jam at the Cumberland Hotel.
Founding member and organiser of the Annual Castlemaine Jazz Festival. In 2015 this comprised 86 bands in 8 venues over 3 days.
Band booking manager for the Comma Hotel in 2014.
Assisted with the annual Guildford Banjo Jamborees.
Helped organise the annual Guildford Guitar Feasts.
Performer:
Vocals and guitar with 'Serenada', a trio with Gwynn James on clarinet and Christian Imfeld on bass playing popular songs from the 30's, 40's and 50's.
Vocals and guitar with 'The Dodgy Brothers', a duo with Rex Watts on guitar, mandolin and dobro, playing jazz, blues and country songs.