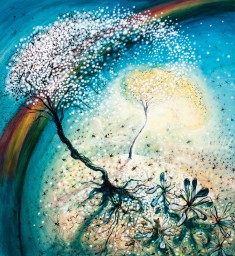 Snippets for "Arts About" with Nancy Whitaker from the Tarrangower Times
The gallery space has a professional hanging system almost fully installed ready for the opening of an exhibition of Jeff's paintings during the Castlemaine State Festival 2015. The exhibition, "Full Moon and Stars" will be opened by award winning author Alex Miller, a week before the official CSF commences.
The gallery will show new paintings by Jeff as part of the Castlemaine State Festival Open Studios program. There was a particularly lovely painting titled 'After the Rain' hanging up in the studio at the back ready for the exhibition.
'After the Rain' is a very layered oil painting with translucent overlays of colour, which give it a beautiful jewel like glow. The blossom on the trees, change to stars in the sky, giving it a lyrical magical quality, which is very characteristic of Jeff's work. There were other paintings on tables ready to be framed of equally great quality.
Jeff's paintings have been inspired and created in the Porcupine Flat orchard studio under the moonlight observing the passage of time, in the starry night sky.