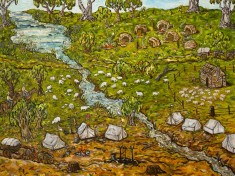 My works combine my passion for nature and history, travel and pre-colonial landscapes in my narrative. I seek to reveal the Indigenous Cultural Landscape, to revisit with new eyes, the Gondwana Felix – central Victoria.
Following Major Mitchell's 'discovery' of Australia Felix (the happy or abundant Australia) and the explosion of colonial settlement, I explore and reveal the pastoral invasion, Indigenous Dispossession, environmental degradation and cultural change, leading up to the gold rushes.
Utilising maps, text, images and archives, my paintings create a 'Visual Narrative' of my insights into the cultural and natural environment of Jaara Country – the lands of the Dja Dja Wurrung.
My aim is to connect viewers and communities with their local environment and history, acknowledging and re-imagining Indigenous presence and lifeways, colonisation, and cultural heritage.