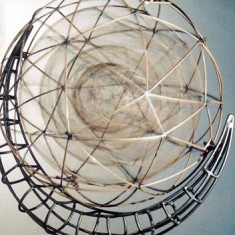 Exploring, developing, and refining a specialised artisan practice.
Metal work practice started millennia ago, with skills and techniques having been developed constantly through this time. In-depth experience with this medium really is of paramount importance when creating practical, functional and beautiful pieces, whether they be garden gates, grand entrances or bespoke water features.
Alex endeavours to create art that is not only beautiful in its own right, but is also enhanced by becoming part of a living space. His metal work is carefully designed to co-exist with its surroundings and to inform and delight the senses. It is crucial to Alex that his pieces engage with the world, resulting in a balanced, organic style.
"I seek to create works that induce a sense of joy and engagement with the world around us." – Alex Sanson
With his broad array of clients and considerable years of experience, Alex has the necessary tools and the vision to complete everything from metal work, metal gates and furniture, to sculpture and water features. Many of Alex's designs incorporate several different materials including wood, glass, and stone, and he also offers a technical design and fabrication service to other designers, helping them to construct and realise their own vision.
See Alex's full portfolio or the pages above to get an idea of the range of his work.
Please call for a quote or to discuss a metal work design for your project.
Alex is also happy to show people through his studio and outdoor sculpture collection by appointment, or to discuss a quote, design, or a site visit. Call him on 0417 359 245, or email him at alex@metaform.net.au