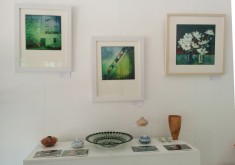 I've been working with glass for about 15 years.  My journey into glass started when I attended a local leadlight class with my daughter. The colours and range of glass available was wonderful, reminding me of the many stained glass windows I had admired in various churches. After making several stained glass windows for my house, I moved on to making mosaics, basically to use up all the scrap glass I had accumulated. I dabbled in mosaics for many years, attending symposiums and participating in group exhibitions.
At the end of 2005, I attended two workshops which changed the way I worked with glass. The first workshop was fusing basics and the second workshop was lampworking for beginners (making glass beads over an extremely hot flame). These workshops led to a love of working with warm glass. I have fond memories of the lampwork class which I attended with a friend. The class was fun with lots of laughter and even though everyone was making the same beads, results differed vastly. Sometime later, I was fortunate enough to purchase a kiln and some basic lampworking equipment.
I find it deeply satisfying to pick colours of glass, layer them into patterns and fuse them into one piece in my kiln. Some of these creations are then returned to the kiln to be slumped in bowls, plates etc. Other pieces are turned into pendants or earrings. Sometimes when you open the kiln, the results can be a surprise.
After moving to Harcourt Nth in late 2013, I began looking around for a suitable gallery space. At the end of October 2014, I opened my own gallery at Shop 4 / 8 High Street in Maldon – Fields of Clover Handmade Gallery to showcase my glass creations and work by other artists.