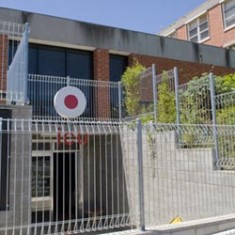 PUNCTUM'S MANIFESTO
Punctum experiments in live arts: the best in the field.
Punctum commits itself to being a key centre for rigorous enquiry into new forms of live performance. We encourage collaborative arts practices and create and support work that is challenging and engaging: positioning regionally based live arts practice as integral to and indivisible from a growing local, national and international live arts culture.
Punctum commits to the production and presentation of a bold, year-round, live arts program, accessible to a broad range of participants and audiences. We aim to establish and sustain a vibrant network of professional partners, pathways and practicing artists (emergent and established) to drive ideas, dialogue, collaborative practice and professional development opportunities locally and internationally. We propose to be the regionally based "go to" place for artists and organisations investigating contemporary art forms and practices: a Victorian arts organisation with national cultural partnerships, an Australian organisation that initiates international cultural exchange and arts partnerships.
We believe that performance should be uncompromising and thorough in its examination of the relationship between audience and art, audience and artists, audience and subject material, audience and place.
We believe art is a living thing, composed of the artwork, artist and audience. We believe these things are inextricably linked and are indivisible – each from the other.
We seek to bring people together to have singular experiences.
We consider that small acts of live art can be spectacular in how they prompt deep and long lasting change.
DIRECTOR'S NOTE
Punctum is small in scale and big in commitment.
We produce live performance works that seize our attention, and hold us in the grip of their adventure; works that draw on all that artists and audiences bring and give of themselves to reach completion.
The works and programs we create are rigorous and unapologetically riotous, risky, generous, ambiguous, hilarious, idiotic, beautiful, messy, intriguing, intelligent, and extraordinary like life; works that as artists have us shaking with fear at where they might lead us, and gasping with surprise at where we find ourselves.  
Punctum is an intended art accident that creates a blemish on the well made stages of art because it's the blemish that reminds us of our humanity.
Punctum is the glorious scene and aftermath of an art and audience collision.
We learn through collaboration
We trust in the impact of divergent opinions
We share our ideas and circulate others' greater ideas
We look within ourselves and far beyond for inspiration
We embrace our good fortune in being regionally based.
We acknowledge our artistic origins whilst actively transforming the order of things
We approach art as an invitation to question the familiar
We consider failure sophisticated
We're agile and embrace risk
We find ideas sensual
We are hard to seize
We value diversity
We act together
ABOUT PUNCTUM INC
Punctum is a live arts organisation based in central Victoria, Australia.
Established in August 2004, Punctum produces and creates small to large-scale performances, installations and programs that foster new forms of interaction between local, national and international artists and regional communities.
Punctum has an Artistic Director, its founder Jude Anderson, a General Manager, Kylie McRae, and a collaborative group of core of members – all practising arts professionals with national and international profiles working in a diverse range of art forms, from theatre to sound art, installations, dance, new media, experimental film, contemporary poetry and spoken word, sculpture, and exhibition design.
Each artist of Punctum creates works of art that continually push the boundaries and conventions of their own practice.
Our work has a national profile for its contemporary themes, the strength and diversity of artists involved and unconventional, innovative exchanges with audiences, which often occur in the least expected places.
Punctum also manages an "arts incubator" – a place where artists working with contemporary forms can research, practise, and build works.
Punctum rejoices in punctuating the cultural landscape.